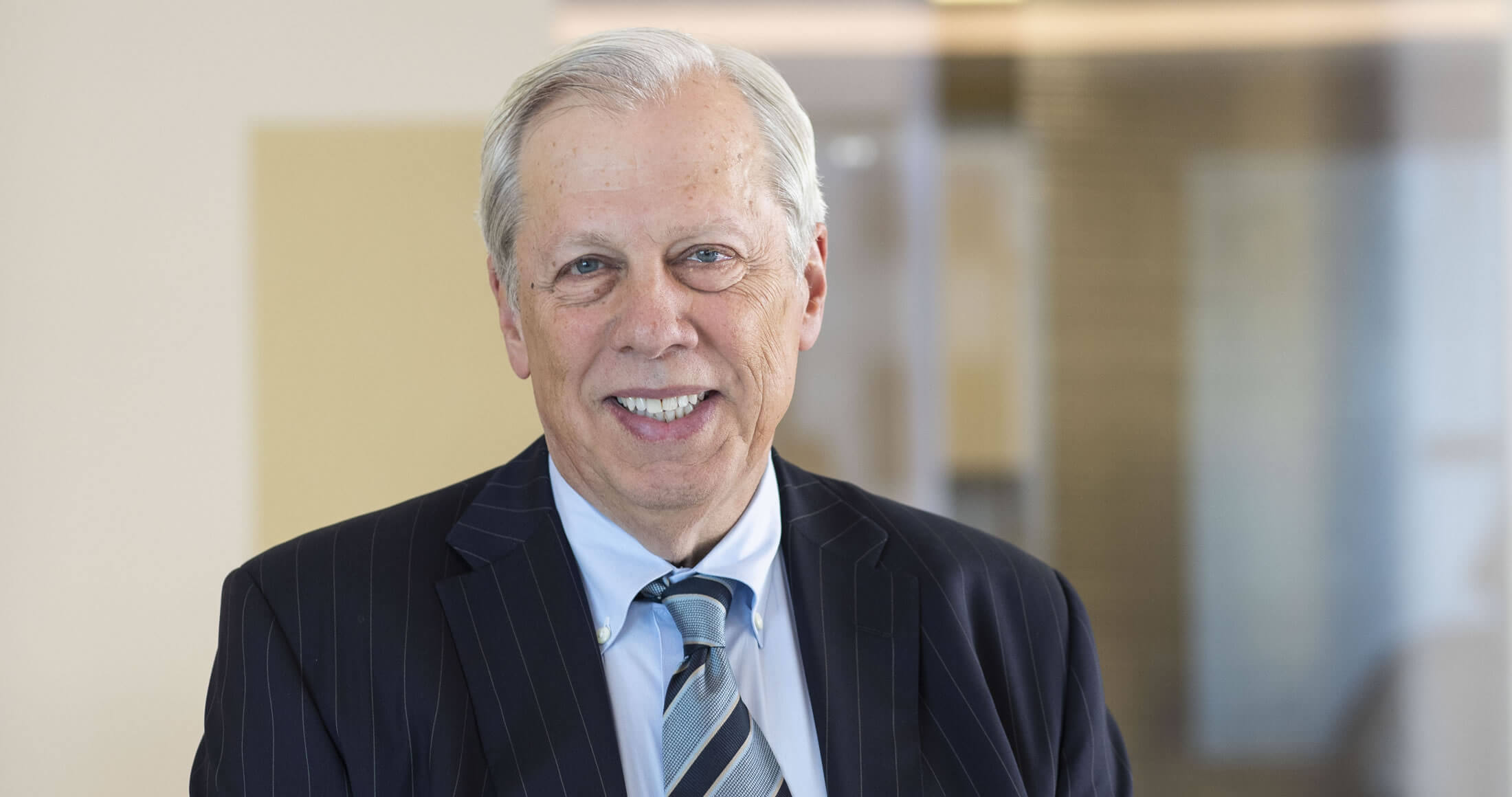 During a recent conference call, Portfolio Managers Clyde McGregor, Colin Hudson and Adam Abbas shared thoughts on the previous quarter and the current market environment and participated in a Q&A. Below is a recap of that call from April 14, 2020.
I want to introduce our new co-manager to the team. Adam Abbas joined Harris Associates to lead our fixed income group in 2018. Long-term participants or investors in the Fund may recall that after Ed Studzinski retired in 2011, we built a new team. At that time, Eddie Wojciechowski was our fixed income team leader and was added as co-manager because of that expertise and work concentration. Over time, he chose to migrate away from being concentrated in the fixed income side of the organization and the firm developed a new fixed income team, so we brought in Adam to lead. We decided we needed Adam's expertise for the Fund, so he joined in March, and Eddie stepped down to focus fully on equity research.
It was the fastest descent into a bear market ever. If you believe that a 20% move off the bottom up ends a bear market, then it was the shortest lived or tied for the shortest lived bear market. We had eight consecutive days where the market either went up or down by 4%, which was two more than the previous record of volatility. We had the largest one-day gain since 1933 and the second largest daily drop ever. As the pandemic developed, Saudi Arabia and Russia had a falling out that caused an oil price war to begin and a collapse in the price of oil with obvious impacts on energy sector companies.
For the Equity and Income Fund, the key issue was the outperformance of growth and momentum or the underperformance of value and some measures of this. The Russell 1000 Growth Index for the quarter, which ended March 31, was basically down 14% whereas their Russell 1000 Value Index was down about 27%, almost twice as much.
If you go to Lipper for one of their fund indexes, their multi-cap value fund equity index (Lipper Multi-Cap Value Funds Index) was -30% in the quarter. And of course, small- and mid-cap issues did even worse. For example, the S&P was down 32.5% in the quarter and the Value Line Composite, which measures something like 1,650 stocks equal weighted, was down over 36%. Our Fund's decline in the period was 22%. History teaches that this kind of market action takes time to work off.
We have been attempting to take advantage of volatility by trimming back holdings on strong days and adding to depressed holdings on down days to improve the portfolio with new opportunities that we have.
At the bottom of the market in March, our holdings were probably cheaper than they were at the 2009 bottom. For taxable clients, we've been working to improve the tax position of the Fund. Since we are a company where the managers "eat their own cooking," most of us have been adding to our Fund holdings in the period.
With our efforts to rebalance, we're just under our normal equity portfolio weight of 60%. We're around 59%. Our research department has been very productive at these new prevailing price points, so we will have ever more opportunities to attempt to upgrade the portfolio. We're enthusiastic about the Fund holdings along with the possibilities.
Some have wondered about the differences in our relative results in this decline compared to the financial crisis. In 2008, we stood out as an outperforming fund, but we certainly have not in this. What's the difference? In 2008, the economy and stock market had to unwind a speculative real estate bubble. Ahead of that, we had judged that there was a bubble and had avoided everything in the real estate and financial services sectors. We had no banks and very little in insurance. While we certainly lost money in the financial crisis, we were less exposed to the sectors that were at the forefront of the market decline.
Heading into this coronavirus market collapse, the only excesses we perceived were in sectors benefitting from suppressed interest rates. We never would have guessed that we would go from interest rates that we already thought were too low to an outcome where short rates would be pushed down to zero because of this economic shutdown.
We've had quite a change in the environment favoring growth and momentum in the short run. This has, in the month of April, begun to unwind somewhat. We're not stating that too strongly because it's early days and only a minor unwind. It has been very difficult for traditional value managers who are looking to own businesses at significant discounts to their intrinsic value and expect price and value to come together over time.
We think there is an opportunity today in fixed income. It's an era where stock folks are forced to put on fixed income hats and think hard about liquidity and free cash flow while the fixed income community is forced to think like stock people with many of their names trading at a large discount to par.
Thinking about ultimate enterprise value instead of yield – yield is almost thrown out the window in environments like this. For those who have focus and expertise across the disciplines, whether it be particular vehicles or research structures set up for that, we think you'll see opportunity to outperform over the foreseeable future and that's because in markets like this, correlations go to one for names with any perceived default risk, especially in fixed income.
For example, two weeks ago we looked at T-Mobile bonds, new issue bonds associated with the Sprint merger deal. They were as wide as 600 over, despite us seeing a merger opportunity, both through our equity lens and our fixed income lens. We are looking at a very resilient business model that we thought could manage through COVID-19 very well and actually be an investment-grade candidate within two years. Everyone is thinking about "fallen angel" risk in fixed income and here's a name that we actually think can be upgraded to investment grade within two years. Meanwhile, look at a name like AT&T, which is a much more challenged position longer term. It's trying to support a dividend and reinvent itself as a content player and buy more spectrums to be competitive in 5G. We believe there are two completely different fates for these two companies, yet trading with 100% correlation as spreads gapped wider.
We also see a lot of opportunity popping up in the airline space. We think the credit path for American Airlines is dramatically different than the one for Delta or Southwest. We think Delta's liquidity will allow it to bottom out in July at around $4 billion and likely be free cash flow and breakeven shortly thereafter. A name like American, though, might have to come back to the government and get more funds. As they exit, we think they'll survive this, but as they do, we think we should consider how these companies are burdened with that as they exit. We believe they're going to have much different paths. We're finding a lot of interesting things to do in the space. It's important to think critically about the difference between a company that has liquidity and one that's just being propped up to get through the next three or four months and will exit with too much leverage and is still secularly challenged.
On current positioning, we'd like to urge people to stay away from long-duration risk. There are a couple of paths that we see for exiting COVID-19 and one will be pretty bad for long and ultra-long duration local coupon government debt. The Fed is currently printing a million dollars per second in stimulus. Fed Chairman Jerome Powell said he will support any and all asset classes – commercial paper, Treasurys, corporate debt and now, as of last Thursday, even "fallen angel" high-yield debt. If you believe they are all-in in "poker terms," then I think there's going to be an inflationary effect at some point in time in the future. Stimulus is not free and you can imagine a point in the decent near future when the Fed tries to step out of this stimulus and I wonder who the buyer of Treasurys is then, especially longer dated ones once we come out of this. We could also be stuck in a long deflationary contraction, although it's not our base case. You're collecting a very low coupon in that environment, which isn't a great and compelling investment, in our view, even in that other scenario.
We believe we are positioned accordingly. We want to continue to be positioned short on the curve in Treasurys. It was almost 100% of our underperformance over the last quarter – and we're okay with that. We think the risk-reward is skewed very negatively and we think we were positioned well to outperform a lot of high-duration risk out there. We want to be opportunistic with new corporate credit risk and want to rotate out of short-duration corporates that we believe have held in very well. For example, we can sell bonds at 102, 103, 104 for inside of 2.5% yield and rotate opportunistically in some of these names that are attractive now. We think we can cross the river and come out with the same business profile, if not better, from a competitor perspective.
QUESTIONS & ANSWERS
The Fund typically had Treasurys shorter term, some corporate bonds. Can you comment on the ABS sector and if that's something that piques your interest?
We think our core competency is corporate credit and we believe there's great opportunity there today, especially BBB, BB, in the junk space and even convertibles. You'll see a lot of our focus over the next couple of quarters there.
There are some tranches of ABS out there. We've looked at some airlines securitizations, asset-backed securities with planes along with CLO (collateral loan obligations) tranches before. If you saw another leg down in this, where you'd really see some of that paper disconnect to what we thought underlying intrinsic value was inside those securitizations, then you could see us really put some pen to paper, but I wouldn't expect us to spend a lot of time today based on what corporate credit spreads have done versus a lot of that ABS paper.
It's also important to note that you've given up liquidity in a lot of those. When you rotate into some of that ABS today, you're paying a decently large liquidity premium to enter in those contracts. It's worth taking a look at, though, in the future. If we get to a point where corporate spreads would tighten to the extent where we needed capacity and we were interested in other opportunities and other spaces that have widened, we think it's certainly something we'd take a look at.
You have a lot of exposure to banks and a good piece of that is European financials. There are some concerns with bank's reserves being greater than they have been with the potential for greater charge-offs and whether their earnings power can be as great as it was pre-COVID. Are you finding opportunities there?
If you look at our financial exposure, Bank of America is certainly the largest holding. We listened to JPMorgan's call today. Short term, we think there will be pressure on charge offs. When we look at that bank, we believe their earnings this year will be pressured, but when you look past this year, the bank has been very aggressive since the financial crisis, exiting most of their higher risk credit. We think Bank of America's charge-off, while elevated, will be very manageable. We believe they're going into this current crisis with plenty of excess capital. When we look a couple years out, we don't see a big change in their earnings power. We still think that they can earn $3 plus by 2022 with plenty of excess capital, so the stock's trading at 7.5x our estimate of normal earnings. We think Bank of America is quite attractive and have added exposure.
Interestingly, one of the stocks we had going into the crisis was Reinsurance Group of America, which is a life reinsurer. The company's stock price started the year at about $160 and dropped to $55 in March. It may seem like an odd choice to add a life reinsurer in this period with COVID-19 spreading throughout the world. There's actually been less death in March and April so far than last year. That's because with everyone sheltered in place in the U.S., there aren't the car crashes, work-life accidents. As of today, COVID-19 killed 20,000 people, which is unfortunate, but you actually had less death. We wish the stock had stayed down longer. We did get a decent position, but we'd certainly like a bigger one. To show the volatility in the market, it went from 160 to 57 to 107 today, which is kind of representative of what's happening in a lot of the stocks we own that have had quite a quick bounce.
As far as financials, we feel good about Bank of America. We think they have much less risky loan books than during the last financial crisis and almost twice the capital. We don't see a big change in Bank of America's earnings power and we think it's quite attractive there.
With asset allocation, stocks are about where they normally are, maybe slightly less. Is the reason the stock allocation is greater than it is because of the fluctuation in pricing? Have you been doing more net buying?
The decline in the share price was so much greater than what we saw in the fixed income side that we've had to struggle to keep up in terms of how to rebalance the portfolio. We also decided to take some tax losses for reasons that we had gains early in the year. We sold some Mastercard and Diageo, which were tremendous winners for the Fund, and some Bank of America as well, all of which generated gains. All of a sudden we were in a position where we had some positions in the portfolio with big losses and so we did more tax loss selling than what we would have contemplated. We have been working to build up the equity percentage. We were certainly net buyers in the last few days even with the market going up. We continue to try to improve the portfolio in this period. Our allocation will be generally in the 40-60% range, but it would not be a surprise if we went about 60% here for awhile because of the change in valuations available.
When you're looking at your portfolio, are you recognizing how you balance volatility risk given that we've had all types of asset classes, even high-quality investment grade corporates, succumb to fierce volatility in a short amount of time or is this such a unique event that you're not putting a whole lot of stock into that?
You had two liquidity panics where you had dislocations and disruptions in markets that were very hard to understand. There's the old Buffett saying "you can't tell who's swimming naked until the tide goes out." We still haven't seen exactly who are the financial industry characters who were most at risk here. You've seen some funds, particularly in the U.K., that have had difficulties and there were other funds in the mortgage space that have had some problems. But a short-term liquidity crisis of this sort is a bit of a "black swan" event and very difficult to have diversified against that, so we are not spending our time trying to protect against a continuation of bad outcomes. At the same token, we're not exactly expecting the market to just shoot up every day, like today. Yesterday, it was obviously different. Last week, it was very strong. Frankly, we would like the market to settle down a lot before I get the opinion that we should be at 70% equities.
Historically, valuation has provided some support. We look at valuation as adding to our margin of safety. In this crisis, it's actually been the complete opposite where valuation has provided no support at this downturn. You look at the market and even today, we think the stocks that were up the most were the largest and most highly valued stocks, including Amazon, Apple, Microsoft, all wonderful companies in our opinion. It's a little weird in this downturn where the lowest valued were the worst stocks. Historically, it's been a little bit different than past downturns.
We spend a lot of time not just looking at low P/E or price to book to judge attractiveness but doing a lot of research on the strength of the franchise. We're confident our businesses will get through this. They have good balance sheets. We think that what we believe is a good franchise is trading at a very low duration will prove to be rewarding over time rather than just the first three months of this year.
One other thing that we find to be important is that there's been far more insider buying, and not just by directors, going on in the last six weeks. If insiders think their stocks have gotten to levels that are that fundamentally attractive, we think that's a very good sign. Any time you have a disruption like this, though, it takes awhile for other mechanisms of price and value realization to come together, so it's going to take some time to heal. At some point, we'd expect to see more deals and transaction activity until balance sheets get totally settled out. That will take quite some time to happen, but prices got to levels that we think were just not sustainable over the long term.
It's been a very unusual environment. It's more reminiscent of times like 1997 or 1998 or the crash of 1987. They take awhile to work through, but they do pass and this one will as well.
EOG Resources was added to Global, but was eliminated from Equity and Income, which has a different risk profile and mandate. Is that why one portfolio added it and another subtracted?
We like EOG a lot. We feel that it has the lowest cost structure of any of the U.S. exploration and production companies. If any of them are going to survive in this environment, we think EOG is at the top of the list. For Equity and Income, it was – by and large – a tax loss. We are considering getting back into the space, but perhaps not with EOG. This was tactical rather than a statement so much about risk profile. In hindsight, we bought EOG at too high a price for the Fund. We didn't expect the pandemic or the price war. As time passed, we chose to move on in that name relative to other opportunities in the Fund.
Average Annual Total Returns (as of 03/31/2020)
| Fund | 3 Month | 1 Year | 3 Year | 5 Year | 10 Year | Inception |
| --- | --- | --- | --- | --- | --- | --- |
| OAKBX | -22.03% | -14.48% | -2.14% | 0.48% | 4.65% | 8.67% |
| S&P 500 Total Return Index | -19.60% | -6.98% | 5.10% | 6.73% | 10.53% | 8.33% |
| Lipper Balanced Fund Index | -12.84% | -4.05% | 2.82% | 3.50% | 6.25% | 6.33% |
Gross Expense Ratio (as of 09/30/2019): 0.91%
Net Expense Ratio (as of 09/30/2019): 0.81%
Fund Inception: 11/01/1995
The net expense ratio reflects a contractual advisory fee waiver agreement through January 27, 2021.
Past performance is no guarantee of future results. The performance data quoted represents past performance. Current performance may be lower or higher than the performance data quoted. The investment return and principal value vary so that an investor's shares when redeemed may be worth more or less than the original cost. To obtain the most recent month-end performance data, view it here.
To obtain most recent Oakmark Equity and Income Fund month-end performance data, view it here.
The holdings mentioned comprise the following percentages of total net assets as of 03/31/20:
| Security | Oakmark Equity and Income Fund | Oakmark Global Fund |
| --- | --- | --- |
| Amazon | 0% | 0% |
| American Airlines | 0% | 0% |
| Apple | 0% | 0% |
| AT&T | 0% | 0% |
| Bank of America | 4.2% | 3.9% |
| Delta | 0% | 0% |
| Diageo ADR | 0.9% | 0% |
| EOG Resources | 0% | 0.8% |
| JPMorgan | 0% | 0% |
| Mastercard Cl A | 3.5% | 6.1% |
| Microsoft | 0% | 0% |
| Reinsurance Group of America | 0.6% | 0% |
| Southwest Airlines | 0.6% | 1.5% |
| Sprint | 0% | 0% |
| T-Mobile | 0% | 0% |
Access the full list of holdings for the Oakmark Equity and Income Fund as of the most recent quarter-end here.
Access the full list of holdings for the Oakmark Global Fund as of the most recent quarter-end here.
The Oakmark Equity and Income Fund invests in medium- and lower-quality debt securities that have higher yield potential but present greater investment and credit risk than higher-quality securities. These risks may result in greater share price volatility. An economic downturn could severely disrupt the market in medium or lower grade debt securities and adversely affect the value of outstanding bonds and the ability of the issuers to repay principal and interest.
The Oakmark Equity and Income Fund's portfolio tends to be invested in a relatively small number of stocks. As a result, the appreciation or depreciation of any one security held by the Fund will have a greater impact on the Fund's net asset value than it would if the Fund invested in a larger number of securities. Although that strategy has the potential to generate attractive returns over time, it also increases the Fund's volatility.
Oakmark Equity and Income Fund: The stocks of medium-sized companies tend to be more volatile than those of large companies and have underperformed the stocks of small and large companies during some periods.
The Oakmark Global Fund's portfolio tends to be invested in a relatively small number of stocks. As a result, the appreciation or depreciation of any one security held by the Fund will have a greater impact on the Fund's net asset value than it would if the Fund invested in a larger number of securities. Although that strategy has the potential to generate attractive returns over time, it also increases the Fund's volatility.
Investing in foreign securities presents risks that in some ways may be greater than U.S. investments. Those risks include: currency fluctuation; different regulation, accounting standards, trading practices and levels of available information; generally higher transaction costs; and political risks.
The S&P 500 Total Return Index is a float-adjusted, capitalization-weighted index of 500 U.S. large-capitalization stocks representing all major industries. It is a widely recognized index of broad, U.S. equity market performance. Returns reflect the reinvestment of dividends. This index is unmanaged and investors cannot invest directly in this index.
The Lipper Balanced Fund Index measures the equal-weighted performance of the 30 largest U.S. balanced funds as defined by Lipper. This index is unmanaged and investors cannot invest directly in this index.
The Lipper Multi-Cap Value Funds Index measures the equal-weighted performance of the 30 largest U.S. multi-cap value funds as defined by Lipper. This index is unmanaged and investors cannot invest directly in this index.
The Russell 1000® Growth Index measures the performance of the large-cap growth segment of the U.S. equity universe. It includes those Russell 1000® companies with higher price-to-book ratios and higher forecasted growth values. This index is unmanaged and investors cannot invest directly in this index.
The Russell 1000® Value Index measures the performance of the large-cap value segment of the U.S. equity universe. It includes those Russell 1000® companies with lower price-to-book ratios and lower expected growth values. This index is unmanaged and investors cannot invest directly in this index.
The Value Line Composite Index is a stock index containing approximately 1,675 companies from the NYSE, American Stock Exchange, Nasdaq, Toronto, and over-the-counter markets. The Value Line Composite Index has two forms: The Value Line Geometric Composite Index (the original equally weighted index) and the Value Line Arithmetic Composite Index (an index which mirrors changes if a portfolio held equal amounts of stock.). This index is unmanaged and investors cannot invest directly in this index.
The information, data, analyses, and opinions presented herein (including current investment themes, the portfolio managers' research and investment process, and portfolio characteristics) are for informational purposes only and represent the investments and views of the portfolio managers and Harris Associates L.P. as of the date written and are subject to change and may change based on market and other conditions and without notice. This content is not a recommendation of or an offer to buy or sell a security and is not warranted to be correct, complete or accurate.
Certain comments herein are based on current expectations and are considered "forward-looking statements". These forward looking statements reflect assumptions and analyses made by the portfolio managers and Harris Associates L.P. based on their experience and perception of historical trends, current conditions, expected future developments, and other factors they believe are relevant. Actual future results are subject to a number of investment and other risks and may prove to be different from expectations. Readers are cautioned not to place undue reliance on the forward-looking statements.