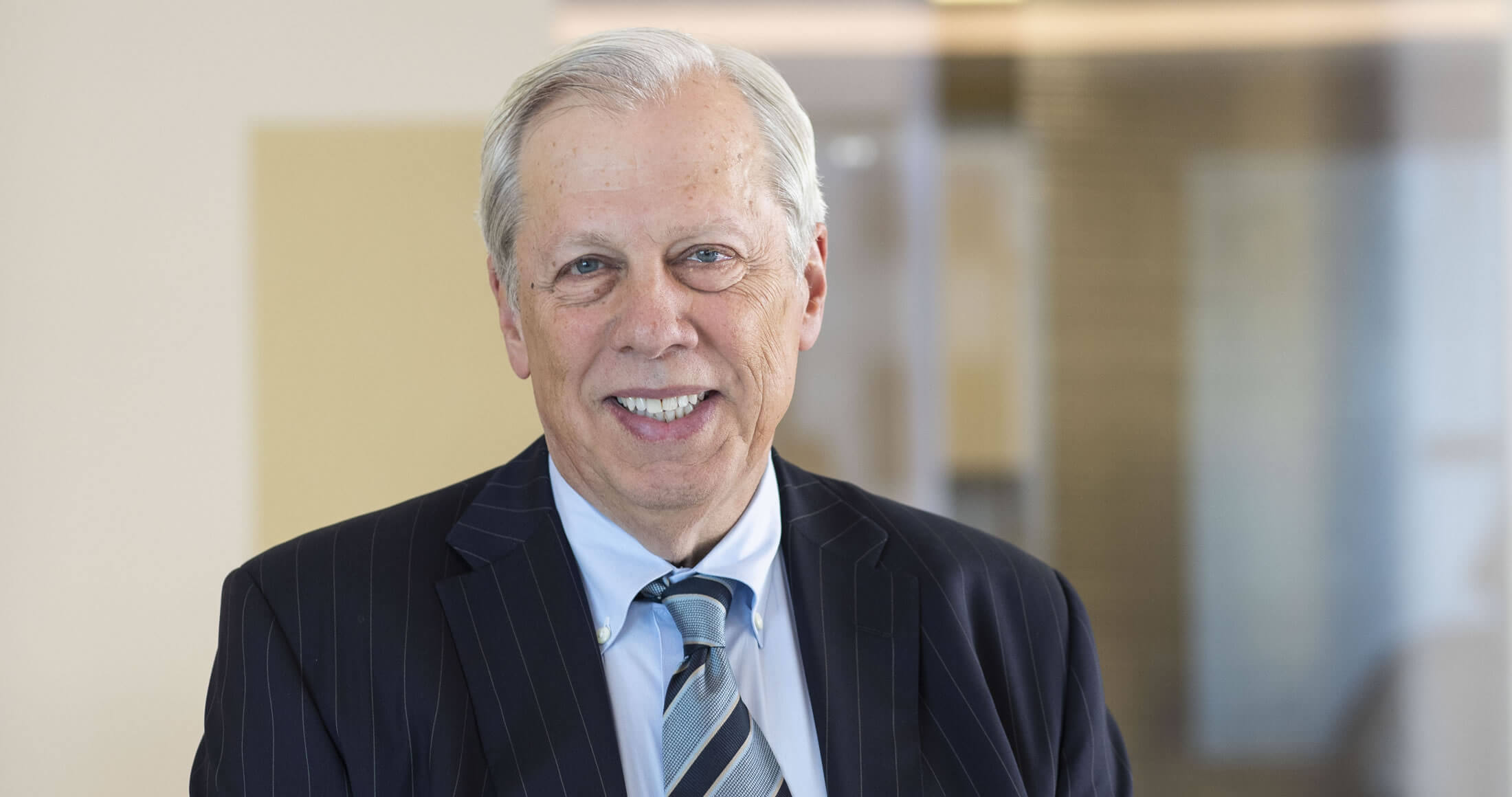 During a recent conference call, Portfolio Managers Clyde McGregor, Colin Hudson and Adam Abbas shared thoughts on the previous quarter and the current market environment and participated in a Q&A. Below is a recap of that call from July 14, 2020.
OPENING REMARKS
It's a heck of a lot better to be talking this quarter than three months ago. Three months ago we were coming out of one of the worst quarters in my very long career—both for the Equity and Income Fund and for the market generally. A very odd quarter, of course, where it had that incredible rebound at the end of March, but be that as it may, it was an overall miserable quarter.
The second quarter was generally much stronger and that was reflected in the investment results for the Equity and Income Fund, which achieved a return of 14.6% for the quarter, which was a nice increment over the 12% return the Lipper Balanced Fund average earned in the period.
Nevertheless, the numbers for the year are still quite challenging because we're down negative 10.6% for the six months ended June 30. Obviously, we're very unhappy about that. We're not in the business of losing money. We're in the business of making money.
As Colin wrote in the quarterly report, he commented on the difference between growth and value realizations in this environment—and it has been very striking.
In the quarter, the stocks in the portfolio outperformed the S&P 500 stocks by a little over 1%. As we looked at the attribution for that, I, at least, was surprised to see that the consumer discretionary section of the portfolio achieved greater returns than technology. That was not always the case for this portfolio, but it was also true within the S&P itself. I think few people would have guessed that.
And as examples of discretionary stocks that did well, we had our automotive suppliers, BorgWarner and Lear, and in particular, the recreational vehicle Thor had a remarkably strong quarter as it was part of a group of stocks that became favored because of the pandemic. It was realized that people were buying more recreational vehicles as a way to escape in this time period where other kinds of travel had become less desirable.
I will say that the market at the beginning of July had not played out exactly the same way as obviously tech stocks had taken off again, maybe not the last two or three days, but tech has certainly risen again in that period.
I should also note that despite that strong second-quarter performance for consumer discretionary, this was a big part of the Fund's first-half shortfall overall. Financials were also highly problematic in the period because of both the risk of loan losses and the drop in interest rates.
Speaking of interest rates, we have to mention again that this has been, in my very long career, a very surprising period of interest rate suppression and has made the management of the fixed income side of the portfolio challenging.
In terms of activity, it was moderate in the period. We returned to Diamondback Energy, which we had owned previously and had fallen severely in the March period. We initiated a position in a company that we have not owned before in the Fund, Sealed Air, a name that probably all of you have experience with things like Bubble Wrap or just the Cryovac plastic wrap that you see in the meat section of a supermarket. We eliminated Southwest Airlines and MGM Resorts, both for fundamental reasons related to the pandemic and to capture some realized tax losses.
Also of interest, we had some unusual sort of reorganization experienced in the period. Our holding Arconic, which we've had for some time, was itself a result of the split up with the old Alcoa. Arconic now split into two pieces, the smaller of which kept the Arconic name and the larger of which became Howmet Aerospace. Obviously, the Howmet piece retained the bulk of the operation that was already producing things like blades for jet engines. The Arconic piece is more involved in light-weighted things like the Ford F150 pickup truck.
A second reorganization or change that occurred was our small holding in Apergy, itself a spin-off from Dover. It merged with a piece of Ecolab to form a new company called ChampionX, which is a much broader diversified energy services company. Apergy's "gem" is making diamond drill bits, a bad pun perhaps but it is what it is. We think this company, with its broader diversification, is now better positioned to deal with the vicissitudes of the energy cycle.
Finally, with regards to not exactly reorganization but in terms of transactions, we have had the positive experience of having one of our more modest holdings CoreLogic receive a takeover offer. This is from a kind of consortium and is a cash deal. The stock is actually trading a little bit above the offered price, but nevertheless it is a solid premium for the name and has made CoreLogic into a profitable holding for the Fund.
Turning to portfolio composition, just a quick reminder of what we're about. Equity and Income is a balanced fund where every holding competes for space. That means bonds that compete for space have to provide attributes that we think merit being in the Fund. It is not a fixed asset allocation, but rather an asset allocation that depends on what is available for us to invest in.
At this point in time, the equity side has 42 names. They're all cap although we don't have anything that would be called extremely small cap today. Ten percent of the equities are foreign domiciled. We do have a high-yield exposure on the fixed income side, although most of that high yield would be in the BB range. The fixed income portfolio has a duration in the mid twos. That is a much lower exposure to interest rate risk. We have more exposure perhaps to credit risk through the high-yield position but we don't have a lot of exposure to interest rate risk.
Historically, the Fund has had a significant position in inflation index securities. That is soon going away just from a maturity standpoint. That is also the case that it turns out that that particular hedge proved to be relatively unproductive because inflation has remained so low, so a tactical error I suppose that both former Portfolio Manager Ed Studzinski and I made 10 to 11 years ago for the Fund.
Asset allocation as of the end of June was 63% equity, 36% fixed income. If I speak to turnover, it was modest in the period but a considerable portion was oriented to tax trading. We are a Fund that has many taxable holders and many who are tax exempt. We always try to navigate that very carefully so that we are not letting the tax tail wag the investment dog but where we have opportunities to become tax efficient, we take them. Obviously, these past six months have offered more in that regard than many other periods may have.
Again, let me touch on that extreme growth-value spread, which Colin wrote about very nicely in the quarterly report. It's a roughly 26% year-to-date spread between the Russell 1000 Growth and the Russell 1000 Value. I saw in a column last week that this spread is actually bigger than was ever seen in 1999, for example. For those of us who are somewhat older, that was the previous time of growth excesses and the internet boom bubble. The spread today is even greater. An important difference, which we've talked about, is that interest rates are so low today. That was not the case in 1999. Interest rates had a more normal structure at that point in time. And as Colin has written, low interest rates means the discount rate used to value very discounted earnings causes those earnings to be more valuable. If you have a growth company that you think is going to produce very strong growth into the future, it does mathematically work to pay more for such an entity, but you need interest rates to stay low and those earnings to come through.
Let me also note that when we were last on this call, we were working from home because of Covid. The three of us now are in the office the majority of the time. That is true for something like a third or 35% of the Harris Associates workforce. We became very good at working from home, but we believe the interaction and camaraderie in the investment team that comes from working together is almost invaluable. We were grateful when the restrictions on coming to work were loosened in Chicago.
We have been very blessed with a very good outcome to date relative to our people in the firm contracting the disease. We obviously are working with very strong Covid protocols in terms of trying to make sure that if someone does have the disease that they don't spread it internally. Nevertheless, we are generally in the office now.
QUESTIONS & ANSWERS
The Federal Reserve is getting involved and basically backstopping all the debt spread that had blown out a bit more in March through April and now they've obviously come down and it seems like even investment-grade corporate debt recently was at record low spreads. Has the Fed harmed your ability to buy various debt that you were interested in but now you don't see the returns given the Fed stepping in?
When the Fed (Put) was introduced in the second week of March, correlations certainly went to one. Everything at the moment was cheap, in our opinion, and you saw all qualities of rating classes trade up. Three months later, we're to a point where a lot more discrimination is needed. I'll give you an example. We're looking at something that we think is still attractive, like a Hilton with a highly variable cost structure and free cash flow available to debt holders next year. Once dividends and M&A are cut off in the structures, as debt holders, we can actually resume a trajectory back to something more normal like 10% to 20% free cash flow to debt.
Where I think the Fed (Put) becomes a hazard, and this is really important, is that, as you know, in March and April you didn't really have to be that discriminating. Most credit spreads were bought because they were cheap. Now you have to be careful of where the Fed (Put) has allowed capital markets to raise debt for companies that will never get back to above 1.0 times interest coverage that are adding 25% to 50% incremental debt to their already leveraged structures coming into 2020.
An example of those credits are the cruise lines. They're coming with actually a couple of deals today. I think a few of the airlines fit this bucket, too. I don't think they're going to get back above 1.0 times interest coverage and will continue to have to print debt over at least the next two to three months. High fixed costs accruing a lot of debt per month and their interest coverage is sub one and the Fed (Put) is allowing them to access capital at the top of their structures, but it's a hole they're not going to be able to dig out of. We're spending time differentiating between these two categories. The Hiltons and maybe the cruise lines or some of those airlines are much different stories once you dig in, but on the surface you might categorize those as cyclical companies that are either going to do well eventually if we get through Covid quicker or poorly if this is more of an L-shaped recovery. We think that's wrong. We need to find examples of where the Fed (Put) is actually a hazard, meaning it's allowing companies to issue debt when they already have too much of it on their balance sheet. The alternative, which is a Hilton, allows them to access the capital markets in a story that will be highly free cash flow generative in 2021. We have a kind of line of sight to that free cash flow visibility once dividends and M&As cut off. The answer is that we're being much more discriminating than we had to be in March and April. I think there are landmines out there. You can't just buy it all anymore, so we're being much more picky right now.
Consumer discretionary and financials are obviously your biggest sector weightings. What are your thoughts on the banks earnings that were released today? I understand your thesis that they had excess capital, they're more conservative and their balance sheets are less levered. Can you comment on the review on the financial space and what you've seen thus far?
As you said, Citi reported earnings today. We believe they actually had a good quarter with a lot of trading revenue, which has been a strong environment for that. They were cautious as you'd expect on consumer credit rates and what lies ahead. We still expect them to earn their cost of equity. Even in a tough environment they have a lot of excess capital. We look out a year or two and think they have 10% plus kind of returns on equity, traded well under 10 times earnings and 70% of book value, so we see a lot of value.
The great thing about our financials is that this will be an earnings rather than capital event. They're all very well capitalized, in our opinion. They have been through the Fed stress test and we believe are looking good, so you have to look out a year or two. We think they're cheap stocks so you need some more certainty for investors to step up and bid up the prices. Since they're so strongly capitalized, it's more of a timing event than any true worry about the underlying franchise. Across the board we think they're really cheap and like them. They have almost twice the capital of the financial crisis and a lot better balance sheet than a loan portfolio, so we think they're quite attractive.
With consumer discretionary, we have the extra government stimulus that's supposed to end July 31 and we have all these starts and stops. What are your thoughts regarding consumer discretionary? And then GM you got rid of. I know GM has done well maybe the last quarter, but it had a rough time. Maybe you can comment on those two areas, which I realize are very broad and wide. Is it just a matter of the holdings that you own within them you just find very appealing even if the overall sectors have headwinds?
With regards to consumer discretionary, we really thought that the autos got ridiculously cheap in the bottom of the downturn. You had to presume that we were going to have five or six million cars a year in the U.S. and something quite reduced in China as well, by far the most important other auto market.
As it turned out, automotive sales haven't been that bad in part because more people are forced to drive and not use mass transportation. I happen to be one of those. I've taken the train for 40 years basically to get to work and as we return from work from home, I'm driving. I obviously had a car before but we found many other people who weren't very much in the car market who have gone otherwise. Automotive sales have been fine. I mentioned how well Thor has done because people are buying recreational vehicles.
We only own a small piece of one retailer, Foot Locker, which we think is an unusual beast because of its narrow niche.
We got rid of our travel-related issues in part because of the ability to take losses and in part because there are concerns about the long-term prospects. The exception to that was we capped our small holding in Booking, the old Priceline.
We think that the consumer discretionary sector is cheap. It's not as cheap as it was before and we're not rushing out and buying more automotive-related securities. We've actually thought about whether we should be pulling back in the space because they have done so well.
As Colin was talking about with the banks, he said we're looking at what our earnings forecasts and P/Es are. With something like a General Motors, we've drastically reduced their earnings expectations and still have a 10 times P/E for next year and 5 times for 2022. Now obviously 2022 is incredibly uncertain, but it's illustrative of the possibilities there. It trades at 50% of book value. So is General Motors a great company? I think it's actually a pretty well-managed one. It's kind of alarming and amusing that during yesterday's open, Tesla went up 16% on its opening in the market and that 16% increment in market value was far more than the entire market value of General Motors. General Motors will produce approximately 5 or 6 million cars, including its Chinese joint venture. And Tesla will produce 450,000, something like that. It's an interesting world in which we find ourselves relative to some of the valuations out there.
In the long run, we are convinced that value prevails. In the short run, almost anything can happen and we've seen a lot of that recently.
CLOSING REMARKS
Let me wrap up my comments at this point and just say again how happy we are to be talking to you today with a strong quarter in hand. We feel that the value opportunities available to us are interesting in the current environment. We look forward to the day that inevitably will come when value and growth begin to narrow their spread.
Average Annual Total Returns (as of 06/30/2020)
| Fund | 3 Month | 1 Year | 3 Year | 5 Year | 10 Year | Inception |
| --- | --- | --- | --- | --- | --- | --- |
| OAKBX | 14.63% | -5.25% | 1.84% | 3.25% | 6.98% | 9.19% |
| S&P 500 Total Return Index | 20.54% | 7.51% | 10.73% | 10.73% | 13.99% | 9.06% |
| Lipper Balanced Fund Index | 11.96% | 3.90% | 5.89% | 5.95% | 8.15% | 6.76% |
Gross Expense Ratio (as of 09/30/2019): 0.91%
Net Expense Ratio (as of 09/30/2019): 0.81%
Fund Inception: 11/01/1995
The net expense ratio reflects a contractual advisory fee waiver agreement through January 27, 2021.
Past performance is no guarantee of future results. The performance data quoted represents past performance. Current performance may be lower or higher than the performance data quoted. The investment return and principal value vary so that an investor's shares when redeemed may be worth more or less than the original cost. To obtain the most recent month-end performance data, view it here.
To obtain most recent Oakmark Equity and Income Fund month-end performance data, view it here.
The holdings mentioned comprise the following percentages of total net assets as of 06/30/20:
| Security | Oakmark Equity and Income Fund |
| --- | --- |
| Apergy | 0% |
| Arconic | 0.3% |
| Booking | 0% |
| BorgWarner | 2.6% |
| ChampionX | 0.3% |
| Citigroup | 2.2% |
| CoreLogic | 0.7% |
| Diamondback Energy | 0.5% |
| Dover | 0% |
| Ecolab | 0% |
| Foot Locker | 1.0% |
| General Motors | 3.5% |
| Howmet Aerospace | 1.3% |
| Lear | 1.6% |
| MGM Resorts | 0% |
| Sealed Air | 0.1% |
| Southwest Airlines | 0% |
| Tesla | 0% |
| Thor Industries | 1.1% |
Access the full list of holdings for the Oakmark Equity and Income Fund as of the most recent quarter-end here.
The price to earnings ratio ("P/E") compares a company's current share price to its per-share earnings. It may also be known as the "price multiple" or "earnings multiple", and gives a general indication of how expensive or cheap a stock is. Investors should not base investment decisions on any single attribute or characteristic data point.
The S&P 500 Total Return Index is a float-adjusted, capitalization-weighted index of 500 U.S. large-capitalization stocks representing all major industries. It is a widely recognized index of broad, U.S. equity market performance. Returns reflect the reinvestment of dividends. This index is unmanaged and investors cannot invest directly in this index.
The Lipper Balanced Fund Index measures the equal-weighted performance of the 30 largest U.S. balanced funds as defined by Lipper. This index is unmanaged and investors cannot invest directly in this index.
The Russell 1000® Growth Index measures the performance of the large-cap growth segment of the U.S. equity universe. It includes those Russell 1000® companies with higher price-to-book ratios and higher forecasted growth values. This index is unmanaged and investors cannot invest directly in this index.
The Russell 1000® Value Index measures the performance of the large-cap value segment of the U.S. equity universe. It includes those Russell 1000® companies with lower price-to-book ratios and lower expected growth values. This index is unmanaged and investors cannot invest directly in this index.
The Oakmark Equity and Income Fund invests in medium- and lower-quality debt securities that have higher yield potential but present greater investment and credit risk than higher-quality securities. These risks may result in greater share price volatility. An economic downturn could severely disrupt the market in medium or lower grade debt securities and adversely affect the value of outstanding bonds and the ability of the issuers to repay principal and interest.
The Oakmark Equity and Income Fund's portfolio tends to be invested in a relatively small number of stocks. As a result, the appreciation or depreciation of any one security held by the Fund will have a greater impact on the Fund's net asset value than it would if the Fund invested in a larger number of securities. Although that strategy has the potential to generate attractive returns over time, it also increases the Fund's volatility.
Oakmark Equity and Income Fund: The stocks of medium-sized companies tend to be more volatile than those of large companies and have underperformed the stocks of small and large companies during some periods.
The information, data, analyses, and opinions presented herein (including current investment themes, the portfolio managers' research and investment process, and portfolio characteristics) are for informational purposes only and represent the investments and views of the portfolio managers and Harris Associates L.P. as of the date written and are subject to change and may change based on market and other conditions and without notice. This content is not a recommendation of or an offer to buy or sell a security and is not warranted to be correct, complete or accurate.
Certain comments herein are based on current expectations and are considered "forward-looking statements". These forward looking statements reflect assumptions and analyses made by the portfolio managers and Harris Associates L.P. based on their experience and perception of historical trends, current conditions, expected future developments, and other factors they believe are relevant. Actual future results are subject to a number of investment and other risks and may prove to be different from expectations. Readers are cautioned not to place undue reliance on the forward-looking statements.