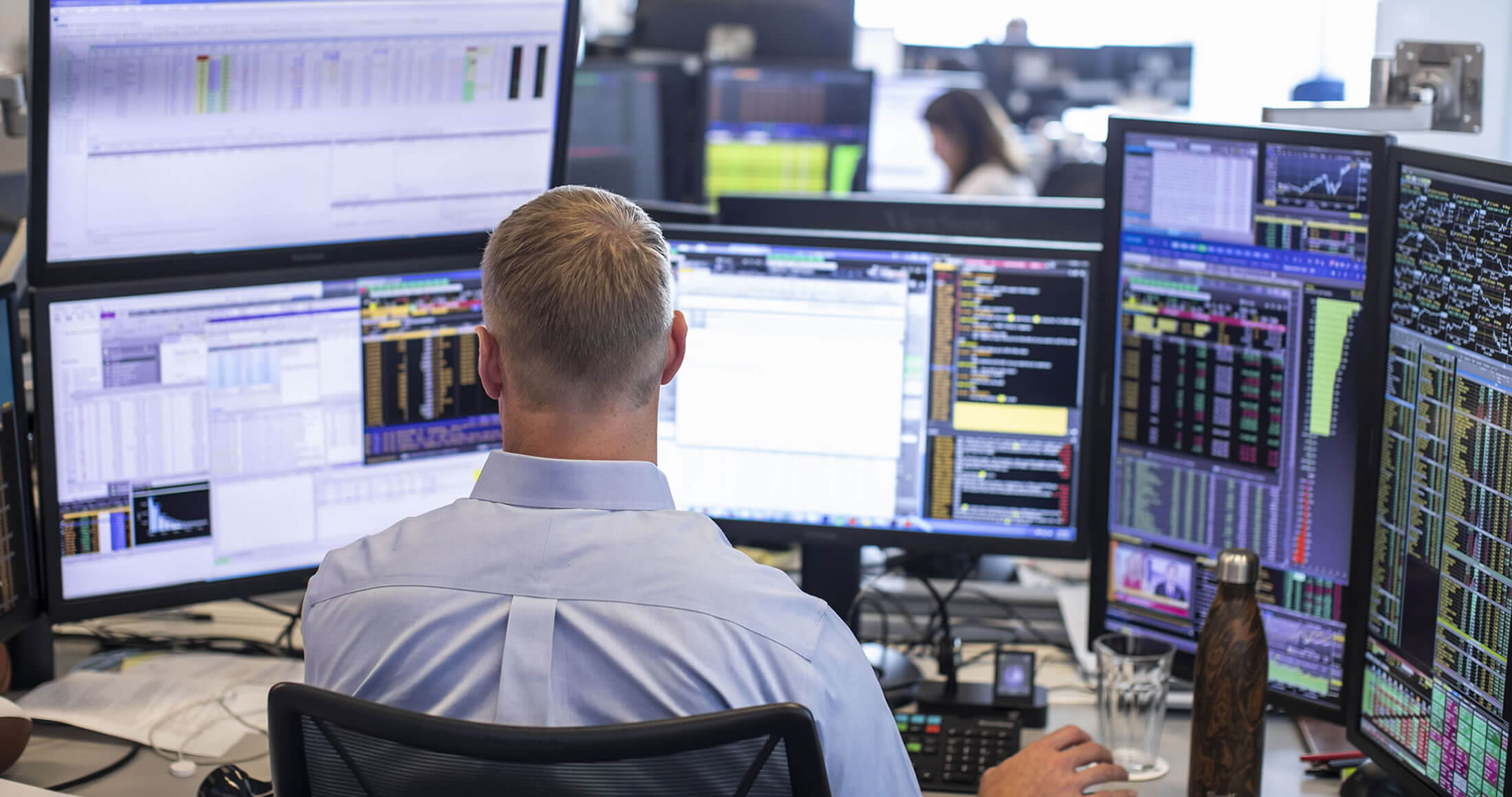 As a little league coach, I look forward to the annual March sale at our local sporting goods store. I get a chance to replace my tattered old baseballs and purchase bigger cleat sizes for my kids, all for 20% off.
Unfortunately, stocks are on sale now, too, as fears regarding the coronavirus have moved stocks from all-time highs and into a bear market correction (defined as a 20% decline from a previous peak). So why is it that when sporting equipment goes down we buy? But when stock prices go down, the first instinct of many investors is to sell?
Using price change as the only reason to buy and sell doesn't take into account a stock's valuation. Was the stock over valued or undervalued? And this method certainly doesn't help you to know when it's time to reverse course to do the opposite. For instance, Starbucks share price is down the cost of about six lattes from its high in 2020 (~30%). Should we wait for a drop of one more latte before getting back in? My adapted 'Latte Factor' rule doesn't reveal anything about the impact of temporary Starbucks store closures on the long-term value of the franchise.
Measuring value
While academics and indexes have turned to price-to-book value as a definitive way to determine cheapness, we think that approach is too simplistic and no longer applies to today's service economy. Rather, our investment team uses various methods to triangulate the intrinsic value of a business and then measure the margin of safety. Along these same lines, AQR revealed that its proprietary model, which uses 25 value factors, is trading at the 97th percentile of cheapness. Excluding the internet bubble, today is the cheapest value of value since 1981.
Figure 1: AQR's proprietary measure of the value vs growth spread.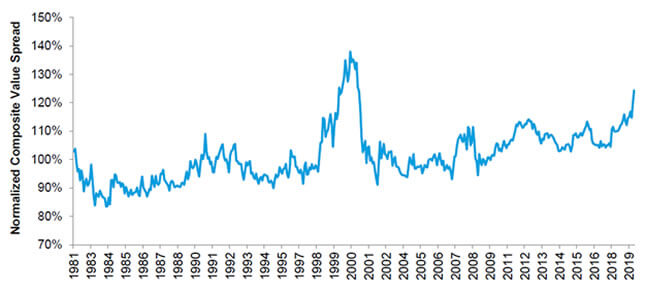 Source: AQR: Cliff's Perspective- It's Time for a Venial Value-Timing Sin. November 7, 2019. The chart depicts AQR's value spread from December 1981 to August 2019 which uses 25 value factors to form long and short portfolios. AQR then measures the value spread based on a mix of four widely-known valuation factors (P/B, P/E where earnings are trailing, P/E based on forecasted future earnings, and price-to-sales (P/S).
In Research Affiliates' article "Reports of Value's Death May Be Greatly Exaggerated,"1 they observed that growth stocks normally trade at about five times the valuations of value stocks, however, they trade at eight times today. Over the last 56 years since they have conducted the analysis, cheaper valuations have occurred only twice, during the peak of the dot-com bubble and the nadir of the global financial crisis. Their analysis suggests that if value stocks were to reverse back to the mean, value could outperform growth by 45 percentage points.
Oakmark's portfolio values
We, too, believe the value of value is attractive. Our experience has shown that prices of stocks are more volatile than the underlying value of the business. And we believe this is happening today, which opens up an attractive gap between fundamentals and share prices.
We seek to buy a company trading at less than two-thirds of our estimate of its intrinsic value. When we sum up the market value of all of our holdings, the market implies that each of our Funds is trading at 50% or less of our estimate of their intrinsic value. Today, since we can buy each of our Funds at half off or less, our investment team is optimistic that stronger than average returns are ahead.
Figure 2: Price to value for each Oakmark Fund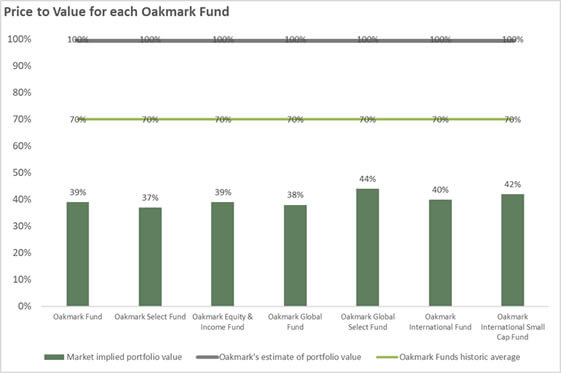 Looking at the Oakmark International Fund as an example, the portfolio was trading in the 97th percentile of attractiveness, in line with the analysis done by AQR in November of 2019. It is worth noting that using the metrics we measure, it has since gotten worse. To put this in perspective, the Oakmark International Fund has traded at a valuation below 45 cents on the dollar only four other times over the last 15 years.
Figure 3: Oakmark International Fund total returns after the market values our portfolio below $0.45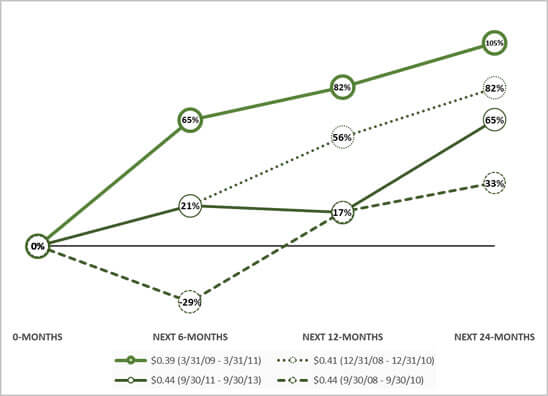 We often say volatility is opportunity. Each of the scenarios in Figure 3 occurred during periods of heightened volatility and prospective returns snapped back strongly each time.
Since the global financial crisis, value stocks have exhibited higher sensitivity to the market (as measured by beta). In general, value stocks have become associated with cyclically oriented industries. At Oakmark, we have deployed significant portions of our portfolios into financials, consumer discretionary and industrials during this time period. We believe that with an adequate margin of safety, select cyclical stocks that are growing per share value and run by management teams that think and act as owners are actually less risky to own than the so-called defensives. For example, Bank of America has twice the level of capital as it did going into the global financial crisis and has been able to grow profits even with very low interest rates, yet it trades at five times our estimate of normalized earnings. Daimler, the maker of Mercedes-Benz is down 50% year to date, but our estimate of intrinsic value is down way less. We believe the margin of safety to own the leading luxury auto company is so wide that we can effectively get the Mercedes sedan and vans businesses for free.
From our perspective, our approved list is growing with new ideas and valuations of our portfolios are discounted. Our investment team is following the same playbook today as they have during each of the prior periods. Fears around the coronavirus has provided value investors another opportunity to potentially take advantage of the volatility. We think the value of value is attractive.
The holdings mentioned comprise the following percentages of the Fund's total net assets as of 12/31/2019:
| Seciturity | Oakmark Fund | Oakmark Select Fund | Oakmark Equity & Income Fund | Oakmark Global Fund | Oakmark Global Select Fund | Oakmark International Fund | Oakmark International Small Cap Fund |
| --- | --- | --- | --- | --- | --- | --- | --- |
| Bank Of America | 3.6% | 5.4% | 5.3% | 4.8% | 7.1% | 0% | 0% |
| Daimler | 0% | 0% | 0% | 3.7% | 6.8% | 3.5% | 0% |
| Starbucks | 0% | 0% | 0% | 0% | 0% | 0% | 0% |
Portfolio holdings are subject to change without notice and are not intended as recommendations of individual stocks.
Average Annual Total Returns (as of 12/31/2019):
| Fund | 3 Month | 1 Year | 3 Year | 5 Year | 10 Year | Inception |
| --- | --- | --- | --- | --- | --- | --- |
| OAKIX | 11.07% | 24.21% | 7.26% | 5.07% | 7.30% | 9.40% |
| MSCI World ex U.S. Index (Net) | 7.86% | 22.49% | 9.34% | 5.42% | 5.32% | 6.07% |
Gross Expense Ratio (as of 09/30/2019): 1.03%
Net Expense Ratio (as of 09/30/2019): 0.98%
Fund Inception: 09/30/1992
Past performance is no guarantee of future results. The performance data quoted represents past performance. Current performance may be lower or higher than the performance data quoted. The investment return and principal value vary so that an investor's shares when redeemed may be worth more or less than the original cost.
1Reports of Value's Death May be Greatly Exaggerated by Rob Arnott and Jonathan Treussard at Research Affiliates, March 2020.
The MSCI World ex U.S. Index (Net) is a free float-adjusted, market capitalization-weighted index that is designed to measure international developed market equity performance, excluding the U.S. The index covers approximately 85% of the free float-adjusted market capitalization in each country. This benchmark calculates reinvested dividends net of withholding taxes. This index is unmanaged and investors cannot invest directly in this index.
Value investing carries the risk that a security can continue to be undervalued by the market for long periods of time.
The Funds' portfolios tend to be invested in a relatively small number of stocks. As a result, the appreciation or depreciation of any one security held by the Funds' will have a greater impact on the Funds' net asset value than it would if the Funds' invested in a larger number of securities. Although that strategy has the potential to generate attractive returns over time, it also increases the Fund's volatility.
Because the Oakmark Select Fund is non-diversified, the performance of each holding will have a greater impact on the Fund's total return, and may make the Fund's returns more volatile than a more diversified fund.
Oakmark Select Fund: The stocks of medium-sized companies tend to be more volatile than those of large companies and have underperformed the stocks of small and large companies during some periods.
The Oakmark Equity and Income Fund invests in medium- and lower-quality debt securities that have higher yield potential but present greater investment and credit risk than higher-quality securities. These risks may result in greater share price volatility. An economic downturn could severely disrupt the market in medium or lower grade debt securities and adversely affect the value of outstanding bonds and the ability of the issuers to repay principal and interest.
Oakmark Equity and Income Fund: The stocks of medium-sized companies tend to be more volatile than those of large companies and have underperformed the stocks of small and large companies during some periods.
Because the Oakmark Global Select Fund is non-diversified, the performance of each holding will have a greater impact on the Fund's total return, and may make the Fund's returns more volatile than a more diversified fund.
The stocks of smaller companies often involve more risk than the stocks of larger companies. Stocks of small companies tend to be more volatile and have a smaller public market than stocks of larger companies. Small companies may have a shorter history of operations than larger companies, may not have as great an ability to raise additional capital and may have a less diversified product line, making them more susceptible to market pressure.
Investing in foreign securities presents risks that in some ways may be greater than U.S. investments. Those risks include: currency fluctuation; different regulation, accounting standards, trading practices and levels of available information; generally higher transaction costs; and political risks.
The information, data, analyses, and opinions presented herein (including current investment themes, the portfolio managers' research and investment process, and portfolio characteristics) are for informational purposes only and represent the investments and views of the portfolio managers and Harris Associates L.P. as of the date written and are subject to change and may change based on market and other conditions and without notice. This content is not a recommendation of or an offer to buy or sell a security and is not warranted to be correct, complete or accurate.
Certain comments herein are based on current expectations and are considered "forward-looking statements". These forward looking statements reflect assumptions and analyses made by the portfolio managers and Harris Associates L.P. based on their experience and perception of historical trends, current conditions, expected future developments, and other factors they believe are relevant. Actual future results are subject to a number of investment and other risks and may prove to be different from expectations. Readers are cautioned not to place undue reliance on the forward-looking statements. There can be no assurance that developments will transpire as forecasted. Actual results may vary.
Daniel A. Nicholas, CFA
Client Portfolio Manager